The True Toilet: A Urinal Designed for Moms with Boys
Looking for parenting-friendly urinal solutions to avoid cleaning up urine splatter after your child?
Seeking boys-friendly urinals to simplify toilet training and maintain cleanliness for moms with boys?
Innovative
True Toilet with Urinal Attachment
Incorporating the True Toilet into boys' daily routines can help instill good bathroom habits, foster independence, and maintain a clean and comfortable environment for them to grow in.
Buy Yours Today
No More Missing the Toilet! Our Urinal for Moms with Kids Ensures Mess-Free Toilet Training
Childproof urinal for moms empowers children to use the toilet independently.
Say goodbye to wiping urine off the seat with our practical urinal for moms and children.
How does the True Toilet Work?
Step 1
Attaches securely to the existing toilet seat, requiring no complex modifications or tools, making it a convenient urinal for moms with boys.
Step 2
Pull the urinal forward to the desired height for your boy.
Step 3
Watch as every drop of urine flows into the toilet – not on the seat and the floor.
Step 4
Instil cleaner bathroom habits in your children from an early age with our mom-approved solution for boys.
The True Toilet Urinal Advantages: For Moms with Boys
True Toilet™ isn't just a convenient option for men; it's also an excellent choice for youth-oriented urinal solutions, supporting clean and comfortable toilet training. Its specially designed urinal is directed at a gentle angle into the toilet, reducing messes and enhancing the effectiveness of mess-free urination for young boys.
Hassle-free Potty Training

The ideal urinal for moms with boys offers a practical and sanitary solution for assisting their children in using the urinal.

Promotes Independence

With True Toilet's boy-centered urinal options for mothers, kids can gain independence and confidence by learning to use the toilet on their own.

Enhanced Cleanliness

True Toilet's boy-centered urinal options for mothers help reduce mess and splatter, ensuring a clean and odor-free bathroom.
Order Your
TRUE TOILET
EXPERIENCE MESS-FREE URINATION EASE WITH TRUE TOILET URINAL FOR MOMS WITH BOYS.
Enjoy a clean and efficient bathroom with the True Toilet Urinal Attachment for Moms with Boys. Its streamlined design ensures a mess-free experience by directing urine accurately into the toilet bowl.
Buy Yours Today
Why Install the True
Toilet in Your Home?
Discover the unique features of the True Toilet, the ideal urinal designed for moms with boys, including practical urinals for moms and children, and tailored for households with teenagers with its unique urinal design:
Minimize Mess: True Toilet's boy-centered urinal options for mothers help minimize urine splashes and spills, ensuring a hygienic training experience.
Urinal attachment: Our urinal's attachment simplifies boys' aim, preventing messes on floors or toilet seats.
Hygienic and and Low-Maintenance: Crafted from premium materials, the True Toilet is easy to clean and maintain, ensuring a sanitary and odor-free urination environment.
User-Friendly: Designed for parents and boys, the True Toilet is easy to use, making the toilet training process smoother.
Cost-Effective Solution: Installing the True Toilet eliminates the need for disposable training products, providing long-term cost savings.
These features make the True Toilet a practical choice for moms and children during toilet training and for households with teenagers.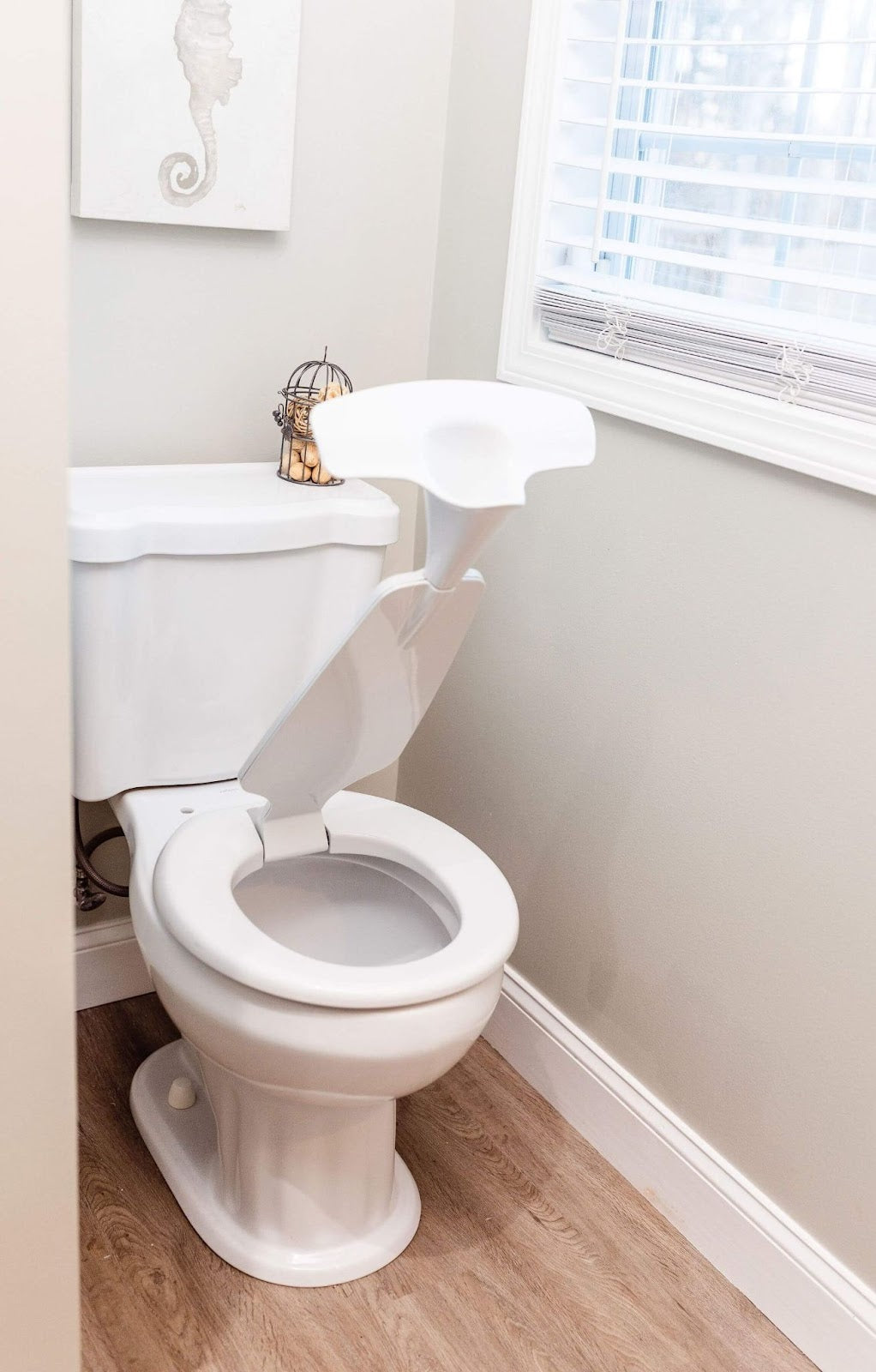 How do you Clean to True Toilet?
No scrubbing the seat
No scrubbing the hinges
No scrubbing the tank
True Toilet Elongated
The True Toilet in the elongated version has approximate dimensions of 15.2" x 19", providing a comfortable seating area for most individuals.
True Toilet Round Version
The True Toilet in the round version has an approximate dimension of 16.6"x 15.2" and is designed to fit in bathrooms with limited space while still offering a comfortable seating experience.
Frequently Asked Questions
Is True Toilet the Right Fit for Boys' Bathrooms?
Absolutely, True Toilet is an excellent fit for boys' bathrooms. Its innovative urinal attachment design is specifically tailored to enhance bathroom hygiene and convenience for boys aged 5 to 19. With its user-friendly features and splash-prevention technology, True Toilet ensures that boys can pee standing up comfortably and without creating messes. Whether it's reducing the risk of splatters or promoting independent bathroom habits, True Toilet is the right choice for boys' bathrooms.
How does the True Toilet benefit parents with boys?
True Toilet benefits parents with boys by providing a clean, hassle-free solution for their bathroom needs. It promotes hygiene, reduces mess, and fosters independence in boys' bathroom habits, making the experience more convenient and comfortable for both parents and children.
How does the True Toilet enhance the experience for families with children and teenagers?
The True Toilet provides significant benefits for families with children and teenagers. It offers a clean and hygienic solution for boys, minimizing urine splashes and messes in the bathroom. This means parents no longer have to worry about constant cleaning and maintenance. It also encourages independent and accurate urination, smoothing bathroom routines, and instilling good hygiene habits. The True Toilet's user-friendly design and ease of installation make it a valuable addition to any household with growing boys, ensuring a more convenient and stress-free bathroom experience for both parents and their children.
How does True Toilet urinal make restroom visits convenient for moms with kids?
True Toilet urinals are easy to use and clean, ensuring a hassle-free experience for both moms and children. They minimize messes, making restroom visits more convenient for families.
Are True Toilet urinals suitable for multi-age families?
Yes, True Toilet urinals cater to multi-age families, including children and teenagers. They are designed to accommodate a range of age groups, making them versatile for various family members.
What makes True Toilet urinals parenting-friendly in design?
True Toilet urinals feature user-friendly designs that simplify the restroom experience for parents and kids alike. They promote independence in children and minimize cleanup for parents.
How does the True Toilet urinals address the needs of teenagers and youth-oriented users?
True Toilet urinals offer youth-oriented solutions by providing teenagers with a comfortable and clean restroom experience. They are designed to ensure a practical and hygienic experience for teenagers.
Can True Toilet urinals be easily installed in existing bathrooms without complex modifications?
True Toilet urinals for moms with boys typically attach securely to the existing toilet seat without complex modifications or tools, ensuring a straightforward installation process.